10 Things To Consider When Looking For An Office Interior Designer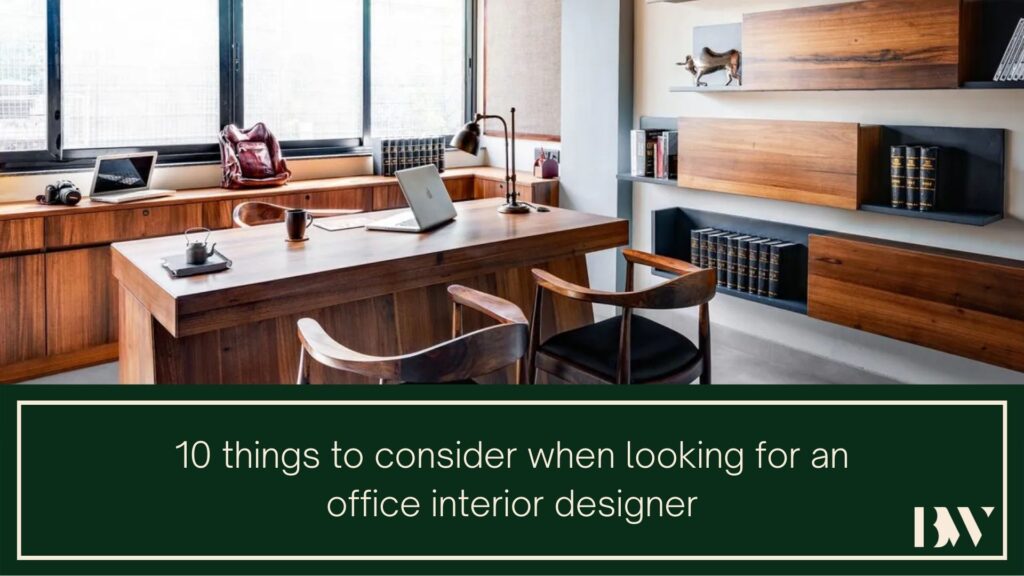 Make sure the office interior designer you hire is the best applicant for the job when it comes to designing an office or other commercial space.
When it comes to your office interior designer, you want to ensure that the person you choose is qualified for the position. The following ten factors should be taken into account when choosing an office interior designer.
1. Qualifications and Experience
Make sure you have a list of trustworthy, skilled, and experienced office interior design companies in Delhi NCR. To understand clearly whether the office interior designer experience matches the work you need to have accomplished, ask for referrals.
Examine their status if office interior designer in your area are needed to register. Utilize referral data to determine whether the office interior designer's experience fits to the tasks you need completed.
2. Reputation in the Industry
Check out reliable testimonials and work feedback from prior contacts to get a sense of how they handle clients and office design. To decide if an office interior designer is the right fit for you, it is very essential to look at their reputation.
You may learn more about an office interior designer's working style and determine whether they are a good fit for you by speaking with the references they have supplied and visiting reputable review sites.
3. Personal Understanding of How Design Elements Impact a Workplace
An office interior designer with experience in office interior design and fit out will be able to choose and offer advice on the best design elements for the company since they will have an understanding of how various elements affect and affect the work of the employees.
An interior designer with expertise working in offices will be able to communicate and offer advice on the best options for your staff because they will be aware of how various factors affect office employees' ability to do their jobs.
Today, through their websites and social media accounts on sites like Facebook and Instagram, professional office interior designer fit out businesses in India already make their quality of work easily visible. You may easily learn what kind of work this office interior designer company handle by browsing online. Always request a portfolio for a more thorough evaluation.

An easy way to determine the type of job they do is to look around online at their website and social media accounts (particularly Facebook and Instagram). For a more proper assessment, request a portfolio as well as 3D floor plans and elevations.
5. Suppliers, Connections and Access to Resources
An office interior designer who is qualified, experienced, and has a track record to back them up will probably have a solid list of suppliers and connections with easy access to a wealth of resources for projects that fall outside of their scope, such as the subcontractors they frequently work with.
A competent and experienced office interior designer with a track record of success will probably have access to a wide range of resources for the project that go outside their specific area of responsibility, such as their regular staff and subcontractors.
The ability of your office interior designer to fulfill deadlines, deliver on time, and produce quality work that exceeds customer expectations is one of the most crucial questions you should ask them. A pattern of projects with delayed deliveries, especially when there have been mistakes on their end, may indicate future issues.
Whether the references delivered on time or were running late is one of the questions you should ask them. Even if other signs are positive, a pattern of late delivery, especially if they could have prevented it, could imply future issues.
Ask yourself, "How much are you willing to spend?" before contacting any office interior design businesses in Dubai for your project. An office interior designer can only accomplish as much as your budget will allow, so set aside a fair amount of money. Never forget that the quality isn't always the cheapest.
For your office renovation, set aside a significant budget because an office interior designer can only accomplish as much as your budget will allow. Before selecting the cheapest offer, make sure is quality by also looking at the average costs for labor and materials. The cheapest is not necessarily the best.
8. Take your time with color and lighting
An office interior designer quickly discovers that it is necessary to give the color schemes some serious thought before settling on a final design strategy. Designers frequently rely on instinct or reach for their go-to colors, but colors must be selected to set the tone and evoke a specific emotion in the user.
The most crucial aspect to get right when designing a space is its atmosphere. The two main factors that determine whether or not this is accomplished are color and lighting. The trick is to evaluate the available space, make a list of all the possible uses, and consider your options carefully. A skilled office interior designer spends a lot of time researching lighting.
9. Take the lead in coordinating the project
An office interior designer's job involves more than just sketching and selecting fabrics and materials. The job involves a lot of organization and coordination. Each project has different design and construction phases, and a skilled office interior designer will take the lead in managing the project's staff to ensure everything works smoothly.
The office interior designer needs to make sure that the idea is turned into reality while taking into account any potential issues. To retain the initial concept and office design idea, this phase calls for teamwork, directed by the office interior designer. As closely as feasible to the concept and schematic design that were offered to the client, we wish to produce the final product.
10. Look to embrace new technology and ideas
There are many chances for office interior designers to effectively express their ideas to clients as a result of the quick growth of new technologies with architectural applications. Model walkthroughs in 3D are already widespread, and while there is still some question about whether they will ever completely replace the traditional method of presenting drawings, there is no denying that they have had a disruptive effect.
Beyond 3D walkthroughs and even the adoption of BIM, there is a need to recognise how technology is shaping society.
A qualified and experienced office interior designer with a track record of success will probably have access to a lot of resources for the project that go outside their specific area of responsibility, such as their regular staff and subcontractors.
Frequently Asked Questions (FAQ)
Translucent or transparent walls encompassing central rooms allow the light into their workspace. Now, everyday workers are exposed to light and views to the outdoors. That is very necessary for healthy and engaged employees.
A good office design enhances employees' productivity, motivation, ability, and everything in between. The looks of your workplace are a great deciding factor to whether or not customers or clients will trust you. Hence, office interior design is one of the key elements toward business success.
Put simply, office design is about creating a space that facilitates productive and purposeful work while leaving room for creativity, customization, and personalization. Essentially, you're setting a stage so everyone can bring their props.