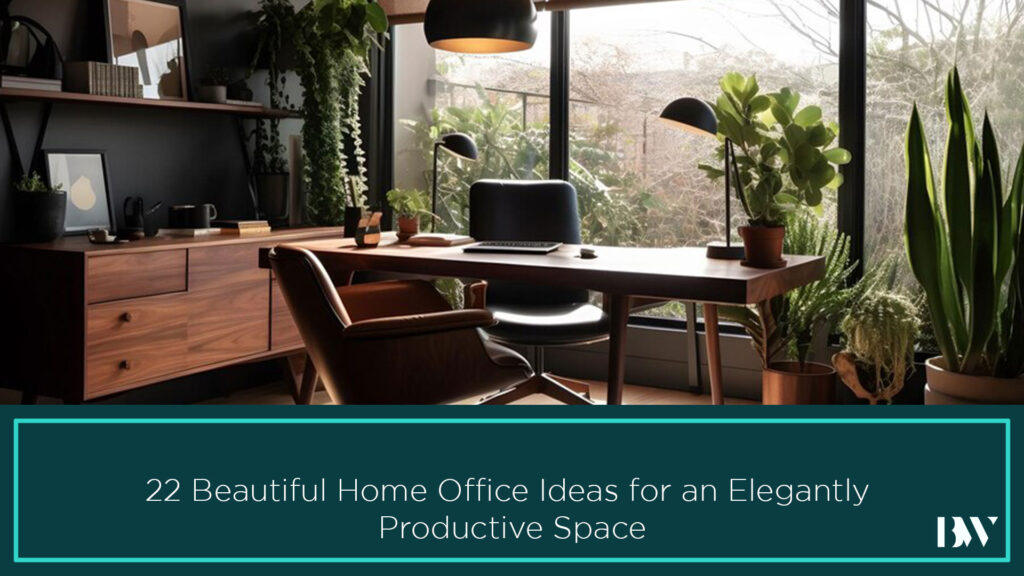 22 Beautiful Home Office Ideas for an Elegantly Productive Space
Home office inspiration is exactly what you need to create a setting that will inspire you to sit down and work. Whether you have a nook or an entire area, our top ideas will undoubtedly improve your design. So keep reading for expert designer-approved home office inspiration!
What to Look for When Looking for Home Office Inspiration:
Regardless of your working hours or location, your workstation should be welcoming and pleasant. While size dictates requirements, both a large room and a small home office can be equally welcoming. Here are four recommendations for designing a stunning home office that adheres to interior design standards.
When considering home office design ideas, take into account natural light and the view from your room. Keeping this in mind, your location and workstation placement will be important. A smart solution is to face your workstation towards a window and use shades to reduce screen glare. Furthermore, overhead illumination or a table lamp might be really beneficial.
Most designers suggest plenty of storage space. Beautiful home office settings are no exception. In addition, cabinets, filing cabinets, and cupboards increase productivity. The first step in creating a productive atmosphere is to eliminate clutter.
It is critical to choose the right workstation and chair for your home office area. Your neck and back will undoubtedly appreciate it! So, choose a desk that can hold your computer and other essentials. Additionally, purchase a high-quality ergonomic chair that is both comfy and adaptable.
Working from home has the advantage of allowing you to design your own workspace. Consider personal stuff when stocking it with home office essentials. Consider what motivates you and brightens your day – they'll put you at ease!
Covetable Home Office Inspo
A home office provides an opportunity to highlight your favourite design aspects. There are limitless ways to create a practical setting, whether you utilise gloomy colours, gold finishes, elegant lighting, or marble. With that in mind, let's take a look at some of our top home office design ideas!
Any striking sombre tone serves as an excellent foundation for gold accents and lighted lighting. This decor demonstrates how a few elegant pieces and a variety of textures can create visual appeal in a gloomy room. If you're short on space, it's also ideal for a small home office design.
2. Vibrant Home Office Inspiration
These vivid workspaces demonstrate that bright hues may be used in the workplace. The upshot of a concentration on products that operate well together is a lively environment.
No room for a desk? Your living room can be quickly transformed into an office. In fact, with this area already adorned, this option is a win-win situation! After a few adjustments, you'll be able to revel in how simple it was to create a swoon-worthy home office look. 
Check out this office décor inspiration! Shelves are used to store objects as well as to display fun home décor. The dark desk matches the wood floors in this area, while light walls, creative lighting, and flora keep it looking fresh.
5. Small Home Office Inspiration
The designers employed little nooks to create practical workplace ideas in this case. Furthermore, these improvements increase the potential of these interiors. They were once unused corners, but now serve as private places of productivity.
A traditional glass chandelier is reminiscent of a bygone period. Having said that, this aesthetically pleasing light would also complement a modern home office decor. It serves both ample lighting and a focal point for this desk.
Wallpaper might improve your work-from-home environment. With its recurring motif, wallpaper fosters mental clarity and serenity in this setting. Furthermore, it encourages an analytic approach to working with geometric shapes.
8. Home Office Inspo with a View
This desk configuration is ideal for people who enjoy a good view while putting in a long day's work. Due to the stunning backdrop, this area requires little else other than a concentration on dark wood.
Large-scale artwork brings this modern-styled office to life. Furthermore, its gentle shape contrasts with the rustic floorboards and sleek white workstation.
You may create a work-friendly workspace full with natural light by positioning the workstation near the window. Furthermore, the new perspective will undoubtedly inspire you at work!
11. Green Home Office Aesthetic
This home office design concept is inspired by the great outdoors. A tree in the corner gives height and interest to the space, while the artwork and furniture emphasise the link to nature.
Top home office inspiration is frequently accompanied by a neutral colour palette. With wooden and gold accents, this neutral haven demonstrates how fashionable muted tones can be. The addition of two traditional-style linen seats makes it ideal for comfortable reading.
Blue is a calming shade. It not only reduces eye strain, but it also increases work productivity. This blue-teal tint not only has a relaxing effect, but it also makes this office area stand out in a home.
This home office's canvas layer is bright and light. A dark wood desk with black metal legs, a black chair, and a velvety charcoal carpet, on the other hand, add balance and depth.
You can incorporate old-world elements, similar to your favourite home office inspiration. This combination of old wood furniture, whimsical décor, and vintage seats, for example, will undoubtedly transport you to another era. Overall, there is an unmistakable charm about the place.
Modernise your office environment by using gold accent items against a monochromatic backdrop. This space, for example, has accents in the seats, décor, and pendants against a dark grey background.
17. Personal Home Office Inspo
Many objects in this customised room reflect the homeowner's personality and interests. The pieces have created an aesthetically pleasant interest in this office through careful placement.
The thick grain of wood adds charm to this fantastic home office inspiration. Furthermore, the energising natural light illuminates the space perfectly.
19. Marble Desk Set Up Inspiration
A remarkable marble desk can be seen in this manly and dark workplace environment. It is visually appealing and combines elegance with functionality.
This home office decor inspiration is boho and wholesome, with quirky personal touches. Each piece has a unique texture or material, and the room has been designed specifically for a creative workspace.
The clean and subtle white colour would surely suit any home office. Warm inspiration brings warmth to this lovely home office decor. Pale-coloured things, such as a neutral rug, sandy-hued upholstery, and decor, also help to layer the aesthetic.
There are additional options to consider if you don't have a distinct place for your stunning home office ideas. A foldaway wall-mounted desk, for example, can quickly transform any nook into a productive location.
When you work with expert interior designers, you can completely remodel your home. To discover more, simply schedule a Free Interior Design Consultation today!
For more information on beautiful home office ideas for an elegantly productive space, visit us at www.boardwalkindia.com
Frequently Asked Questions (FAQ)
Ans. The goal is to minimize glare that can cause eye fatigue or strain.
If possible, place your monitor perpendicular to a window. You don't want to face the window or have it behind you.
A laptop screen can be adjusted or tilted to minimize glare.
Minimize overhead lights and instead use table lamps for task lighting.
Ans. Once you have your space, these five tips can help you be your most productive self:
Fill your space with natural light. The Harvard Business Review lists natural light as the number one office perk.
Find your ideal noise level.
Choose a scent.
Keep your space and your routine organized.
Get dressed.