Essential Checklist for your Office Interior Design
After our homes, offices are where we spend the most time indoors. Therefore, it's crucial that they are attractive, useful, and healthy! Would you like to learn how to make your office space more appealing? Then look over our essential office interior design checklist!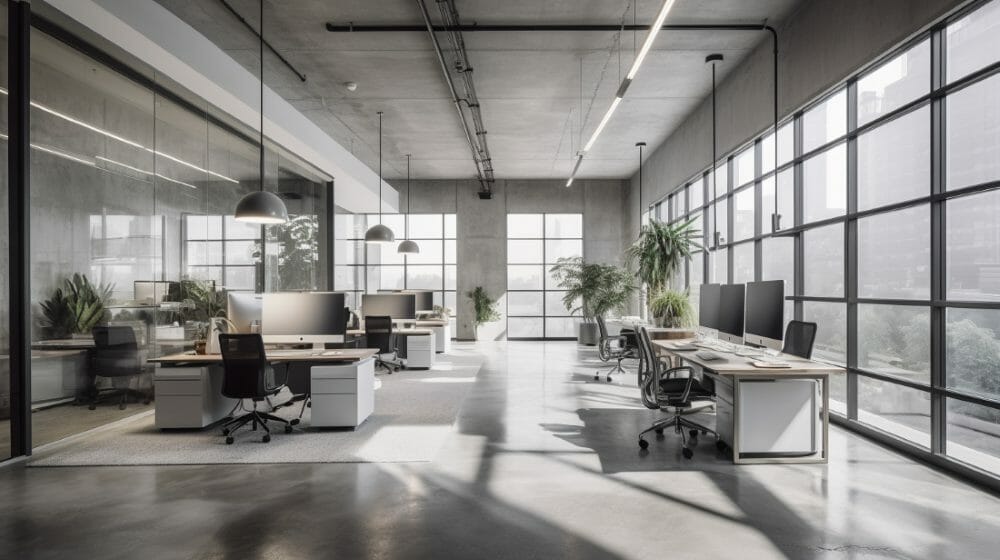 Enhancing productivity, encouraging creativity, and fostering a positive office space atmosphere are all facilitated by creating a well-designed and practical office space. An office interior design checklist is essential whether you're considering a redesign or creating a new layout because it:
Make sure you add the necessary components for a comfortable and productive work environment.
Enhances effectiveness and reduces waiting.
Allows you to concentrate on emphasising your brand's style and guiding principles through the office interior design.
Serves as a platform for communicating with stakeholders, through which you may focus down on what you require for your office.
Maintains continuity and quality across the interior design of your office.
Delivers a well-designed workspace that enhances productivity and employee satisfaction.
Here are 7 essential tips for your office interior design:
Opt for Inspiring Interior Design for Your Office Space
Choose Comfortable and Healthy Furniture
Plan for Plenty of Storage
Neat Desks Office Interior Designs Ideas
Bring in Greenery
Choose Office Interior Designs Colors Wisely for Your
Fill the Office with Natural Light
1. Opt for Inspiring Interior Design for Your Office Space
Make sure your office interior design is exciting and energising, whether this is keeping the area serene and uncluttered or choosing a strong wall colour and lots of accessories. In actuality, the top modern office interior design tip is to create an inspiring environment. People are happier and more productive when they work in an inspirational environment!
Variation is essential for creating a welcoming atmosphere. Desk spaces are only one element of an excellent https://boardwalkindia.com/. Plan for imaginative common places as well to make the location more welcoming. These spaces can be used to collaborate or simply just get up from one's desk to increase general happiness and creativity. Equally crucial are lounge areas. Having a designated area for breaks is crucial, despite the fact that they could appear like a distraction. Additionally, this will ensure silence in the working spaces!
2. Choose Comfortable and Healthy Furniture
Comfort is important because people spend a lot of time at work. In particular, chairs must provide enough back support and be pain-free. This is why the greatest option for office interior designs is still adjustable seats. And gone are the days when adjustable chairs were big and ugly. There are many lovely office chairs available today that will go with any kind of office furniture.
"Sitting is the new smoking," they assert. And it's important to encourage people to circulate around the office. First off, standing desks are a terrific option because they let you alternate between sitting and standing while working. Second, open coworking spaces or lounge areas are useful resources because they motivate workers to occasionally get up from their desks. Additionally, small conveniences like moving the printer a few more steps away from the desks are fantastic suggestions. The productivity and well-being of your employees will be grateful! Think about spending money on a reputable office interior design service if you need a little assistance getting it properly!
3. Plan for Plenty of Storage
Any office space needs plenty of storage. To hide the majority of the clutter behind closed doors and give the room that clean, designer look you see in magazines, closed storage is especially important. The ability to organise is also crucial. Maintaining order in a space is much simpler when everything has a place. Office interior designs can fix all the problems of storage by providing you with better storage options.
4. Neat Desks Office Interior Designs Ideas
Here is another reason why closed storage is important. Studies have shown that having an uncluttered work surface fosters productivity. So it's better to leave just what is immediately needed on the desk and avoid piles of stuff. And if some things still need to be stored on the desk, closed boxes and containers will help to hide the clutter, leaving the space free and inspiring!
Flowers and plants are a nice idea at all times for office interior design. They instantly spark new life into a room, offer a splash of colour, improve the welcomingness of the office, and even have beneficial effects on our brains. Did you know that some plants can also enhance the quality of the air, as if all of this weren't enough?
6. Choose Office Interior Designs Colors Wisely for Your
Colours do affect our brains, that much is true. Some are interesting, some are peaceful, and some may even end up being bothersome! Therefore, the colour scheme of a workplace should be thoroughly considered before being chosen.
Do you have a job in the arts? Orange is a wonderful choice for you! Small red touches are also excellent for fostering creativity.
7. Fill the Office with Natural Light
The quality of the workspace is a factor that is becoming more and more important in office interior designs. And a top priority is using natural light! Everyone should have access to natural light since it has numerous positive effects on both health and mood. Large floor-to-ceiling windows are a popular (and beautiful) way to get natural light into offices these days. Another technique to let light travel through space and make the most of the sun is via translucent internal walls.
Your office will have a design that is inspiring, healthy, and productive thanks to all of these components! However, with the aid of a pro, office interior designs, it may be both simple and lovely! So arrange a Free Office Interior Designs Consultation to upgrade your office interior design and space!
Frequently Asked Questions (FAQ)
Ans. Essentials of an office interior design are:
Opt for Inspiring Interior Design for Your Office Space
Choose Comfortable and Healthy Furniture
Plan for Plenty of Storage
Neat Desks Office Interior Design Ideas
Bring in Greenery
Choose Office Interior Design Colors Wisely for Your
Fill the Office with Natural Light
Ans. An efficient office interior designs allows employees to optimize the available office space and use it in a way that is aesthetically pleasing and more importantly, helps with productivity. Space planning takes into account your specific needs and helps you meet those requirements.