How Virtual Tours of Property is a Boon For Real Estate Developers?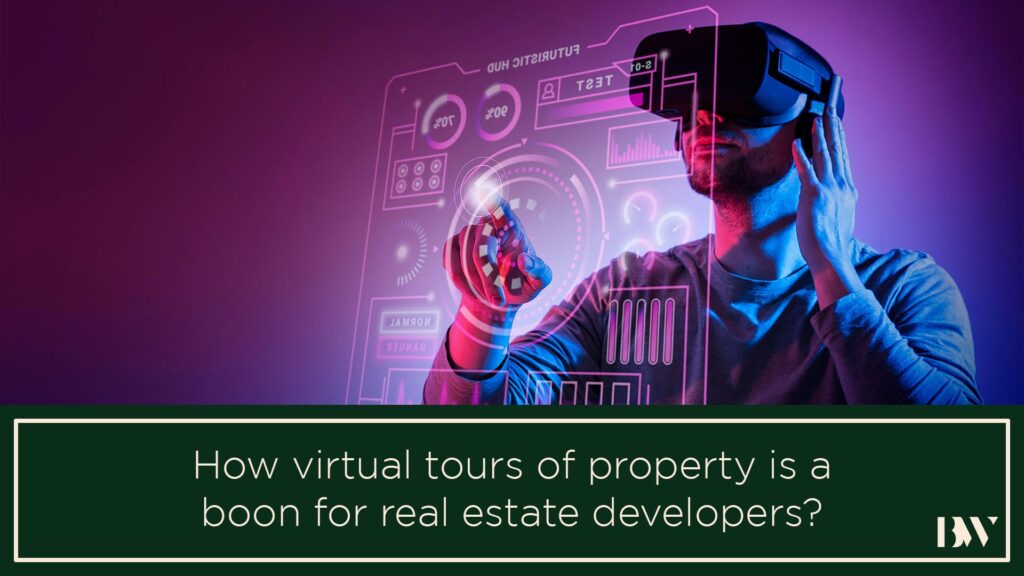 The definition of the real estate sector has completely changed, thanks to virtual office tour. In a situation
where the pandemic has limited our ability to travel, do site visits, and inspect properties, video
conferences, virtual office tour, and e-launches have been quite helpful.
You are unable to physically visit potential homes for purchase. Technology is essential in this situation.
Many real estate businesses are trying to gain all the most latest technologies in order to draw in
customers.
Virtual tour have been more popular in the real estate sector over the past two to three months.
Technology has advanced significantly from call shortlisting to call decision-making.
Even if we are aware that a physical visit may be equally important, the current state prevent us from
making one—and this is all to our benefit.
The image of a real estate asset has altered as a result of webinars, virtual office tour, AI, and online
payments.
Many developers and builders are also attempting to develop cutting-edge solutions that will benefit their clients. Virtual tour of the property and its surroundings are available, along with a variety of technology interfaces to support sales.
Many businesses are also experimenting with virtual reality and automation to provide their clients with the finest possible services.
People's views on real estate as a whole are evolving, and they are gradually adjusting to the "new
normal" or the digital world. Everything is gathering pace as we move closer to a world where physical presence will be virtually nonexistent, from online payments to virtual office tour.
In recent years, virtual reality and augmented reality have swept the globe. Businesses can provide
clients with an immersive experience of their goods or services with the aid of this technology. This
cutting-edge technology is very advantageous for the real estate sector.
What is Real Estate Virtual Reality and How Can It Be Useful When Purchasing Under- Construction Property?
Thanks to virtual office tour, customers may now view a property without physically visiting it.
Purchasing a building that is still under development can be difficult, especially when leasing office space is such a significant decision. When something isn't even built, how can someone imagine what they are purchasing?
2D rendered images of the office area are one step ahead of this. These are accurate representations of the space, sometimes known as artists' impressions. However, these merely display particular perspectives of the property (obviously, builders will choose to showcase only the most flattering angles of their property).
Virtual office tour, in which a camera roams the entire area, are a step farther than this.
You won't get a sense of how the apartment will feel in the actual building — what will the view be like?
— even if some projects include sample flats and display flats that depict how the apartment will look.
Will the sun shine for long enough?
The fact that many apartment complexes have different unit configurations and variants but most display flats often just have one variety is another problem with them.
Simple 360-degree panorama photos and more complex real-time generated experiences are the two
sorts of virtual tours that are available. Users can view the virtual office tour on their smartphones, desktop computers, or by connecting a VR headset for a more immersive experience. The fundamental concept is the same.
Simple 360-degree virtual office tour allow users to glance around from fixed vantage points. Although he is unable to roam freely within the area, he can traverse from one fixed location to another. More potent gaming engines like Unreal or Unity are needed for more sophisticated real-time rendered experiences. In these situations, the user has unrestricted access to the entire environment.
Given that practically everyone has a smartphone, mobile tours are cool. With a mobile virtual tour, you can move your phone around to gaze around the workspace as if you were viewing it on your phone's screen through the camera. Using straightforward controls, you may easily go from one space to another. Such a virtual office tour is accessible.
Virtual office tour are being used more frequently by real estate developers to creatively and effectively present their properties. With a few clicks, prospective buyers can quickly browse every room and crevice of the house. Virtual reality provides users with an immersive experience in contrast to straightforward pictures and movies.
Developers can even do fun things with a virtual office tour, like letting the user alter the space's
materials, test out various furniture arrangements, alter the floor plans, or examine the view from various heights. Using a specialised 360-degree drone, views are captured. At Nexworld, we've even used a virtual tour to demonstrate our design concepts so that clients can distinguish between good and terrible design.
Benefits of Virtual Office Tour in Real Estate
1. Make an Informed Choice
Potential customers were enchanted by the virtual tour. These virtual office tour give you a chance to see the entire location without having to go there in person. Clients can actually picture themselves residing in that home. As a result, a high-end immersive office virtual tour experience allows you to learn
about the office space, structure, and ventilation. It aids in the decision-making process when
purchasing.
Virtual tours of offices help buyers save time. A consumer looks at numerous properties before choosing one. A customer can find it difficult to personally visit every property, especially those that are far away. Instead, before deciding on a property that interests them, he or she can receive virtual office tour of several different properties.
You can use your cellphones and laptops to access these virtual tour whenever you want. It shortens a customer's commute and enables them to concentrate entirely on other aspects of the home- buying process that are important. We were able to keep giving our customers a fantastic sales experience even during the lockdown thanks to virtual office tour
3. Provides Intriguing Digital Experience
The design of 3D walkthroughs is quite engaging. Customers are given privacy to freely tour the property and, if necessary, ask inquiries. In addition to the view from the balcony, they can see the storage area,light fixtures, natural lighting in the room, and much more. The customer is motivated to move forward with their home-buying process as a result.
4. A Good First Impression
A memorable first impression is made when you provide your clients a high-end, technologically
advanced service like a virtual tour of the building. It promotes their trust in the company and its
products.
Additionally, it increases the developer's dependability. It gives the developer an edge over the
competition and separates the brand.
5. Create an Emotional Connection
Clients have ample time to consider whether this is the property they are looking for because they may access the virtual tour whenever they want. Additionally, they can share these virtual office tour with their network and solicit comments from them. Customers feel a sense of ownership as a result of this.
By providing a virtual office tour of the amenities and some 3D walkthroughs of the entryway and open spaces, you may further improve these experiences. They are more likely to feel committed to moving forward with the home-buying process the more time and effort they put into viewing the office virtual tour of your office space.
We have given our consumers as much information as we can to enable them to make an informed
choice. We do our best to give our customers a realistic impression of the office environment by offering virtual office tour.
On our website, www.boardwalkindia.com, you may learn more about the virtual tour.