Temporary Office Space: What Is It and Is It Right For Your Business?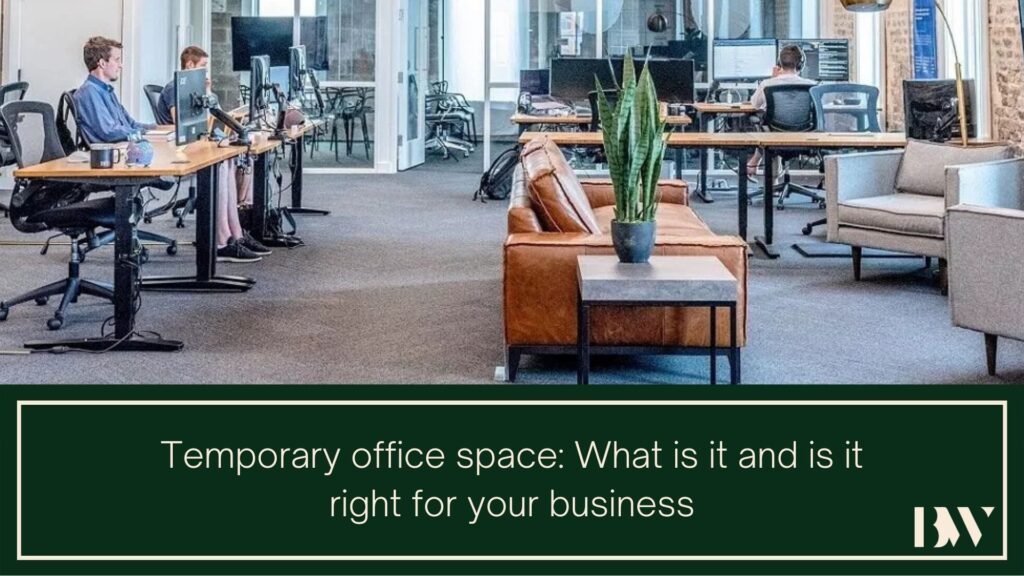 More and more freelancers, business owners, startups, digital nomads, and organizations of all sizes (including companies) are learning about the major benefits of temporary office space every day.
These workstations also differ greatly from an empty rear room in a neglected building corner. Turnkey solutions for all your office requirements may be found in the greatest temporary office spaces, including those at Boardwalk India.
We'll dive deep into the world of temporary office space in this post to help you determine if it's the best option for your staff and your company.
What Is Temporary Office Space?
Temporary office space is basically a rental for any length of time less than a typical office lease (i.e., one year).
You can even rent desks or rooms by the hour or the day with some temporary office space. The majority of temporary office space is rented on a month-to-month basis, despite the fact that those are useful solutions for teams that require access to workspace at a moment's notice.
Even if you already have your own permanent office, renting temporary space has many advantages.
Is Temporary Office Space Right For Your Business?
How is renting a temporary office space so bad? Here are a few instances.
Your company has nowhere to operate because its leases are up soon.
Overflow space is necessary because your company has outgrown its office.
You must hire workers for seasonal or project-based work and provide them with a place to work.
Your permanent home is getting built or fixed up.
You're a young independent businessman.
You need to keep up with a virtual workplace when you're away since you're a digital nomad.
Your crew can no longer fit around your dining room table since you run a startup.
You need a location to launch your firm after travelling from another state or country.
If you're having a meeting with significant clients or investors, you'll need a conference room.

In actuality, the list is endless. Do you need a temporary office space for your company, then? The answer is a resounding "Yes."
What Are The Benefits Of Temporary Office Space?
The best portable offices, like those at Boardwalk India, give your team everything they need to handle even the biggest, most challenging projects. Everything is taken care of, from soft furnishings to super-fast Wi-Fi to regular cleaning and maintenance.
The infrastructure of your company is essential to its success. While technology is crucial, other factors like storage, supply, maintenance, and heating and cooling can greatly affect how well your team works.
Some temporary office space just charges you for the room you rent. However, we at Boardwalk India take care of all the technical requirements, so you can focus more on the caliber of your team's work and less on their workspace.
Working in a dimly lit, windowless space with reused furniture and shelves made of wood boards and cinder blocks may be beneficial to your financial situation, but it's bad for your reputation.
Boardwalk India's temporary office space gives off a classy look right away. You are not need to invest your money and precious time in furnishing your workspace. There is amazing décor and luxurious furniture available around-the-clock, so meeting that important client or angel investor won't be a worry.
Today, flexibility is crucial for building and maintaining a successful firm. This flexibility is provided by temporary office space. You have instant control over how much space you utilize. The Boardwalk India monthly membership options make downsizing and upsizing simpler than ever.
You can begin in January with space for five, grow to space for ten in February, and then decrease to space for seven in March.
Although it may not seem like a big deal, the comfort of your workplace environment is critical for keeping your employees motivated, engaged, and productive. In reality, the same level of comfort makes a big impression on any clients or customers who may drop by during working hours.
All of Boardwalk India's temporary office space is designed with comfort in mind. We furnish and adorn our spaces with the greatest items available in luxury. In this manner, you and your team will be content, content, and productive the entire day.
Regardless matter the size of your organization, networking is crucial. To ensure the success of your firm, you must develop and expand your working relationships.
In a co-working setting, you can operate your company, a team, or even just yourself from a temporary office space, allowing you to network with other professionals as you work. That could have a big effect on how your product or service is improved, developed, and refined.
One of the greatest advantages of temporary office space, but also one of the most undervalued, is exposure to fresh ideas. Your staff will have access to fresh sources of knowledge and creativity when they interact with people from different backgrounds and companies.
Your employees will find it simpler to take inspiration and fresh ideas from individuals around them and to apply those ideas to your particular business thanks to their knowledge and ingenuity.
By relying on your industry-specific network or isolating your staff in a small office, you won't achieve it.
Working from home or in your own dedicated office, whether you're a team of one or 100, can rapidly become isolating and de-motivating.
Productivity greatly declines when inspiration is low and loneliness is prevalent. The most straightforward answer to this problem is to base your team in a temporary office space where co-working is valued.
Consider collaborating with an office space provider like Boardwalk India to have the best of both worlds if you're concerned about controlling sociability.
You and your team can operate in private offices in a bigger area while yet being close to the co-working space and its social benefits.
Your team needs inspiration, you know that. And you are aware that you must exert effort to maintain their level of motivation. However, you might not know how to do it.
The challenge is made worse by the fact that motivation might vary day to day, and even hour to hour.
A temporary office space offers a good environment that isn't necessarily present in much more traditional, devoted work settings.
Combining this positive environment with the above-mentioned socialization and exposure to novel ideas can energies your team, inspire them to success, and breathe fresh life into the way they operate.
Although you might not consider design to be an important aspect of your team's day-to-day operations, it actually has the potential to increase productivity.
Your team may devote more effort and concentrate to completing jobs as swiftly and creatively as possible when they aren't focusing on how much they dislike the distracting colors on the wall or how they'd like an adjustable-height desk.
All of the temporary office space at Boardwalk India is created with aesthetic value in mind.
We also include additional design components, such as several seat and desk alternatives, natural light, plants, vibrant colors, and more, to make sure that your staff is inspired and gets the job done correctly the first time.
Selecting a temporary office space where you can benefit from a professionally designed and managed workplace is crucial. The work of Boardwalk India goes much beyond that.
Use one of our numerous ideal sites in Delhi NCR if you're seeking for a large, well-equipped temporary office space that offers you the polished appearance you require.
Visit www.boardwalkindia.com to get started or discover more about the benefits of co-working spaces for digital nomads, remote workers, and companies of all sizes.
Frequently Asked Questions (FAQ)
Ans: Here's why temporary office space are more beneficial than you may think:
Offices improve employee wellbeing
Offices boost local economies
Offices optimize innovation and collaboration.
Offices keep work and home life separate.
Offices influence company culture
Offices connect people.
Offices guarantee workplace standards, etc.
Ans: A temporary office space, also known as short-term office space, is quite a new concept in India. Temporary office space is generic name for a type of professional office spaces, and these are not at all expensive corporate offices. Hope you are satisfied with the answer.