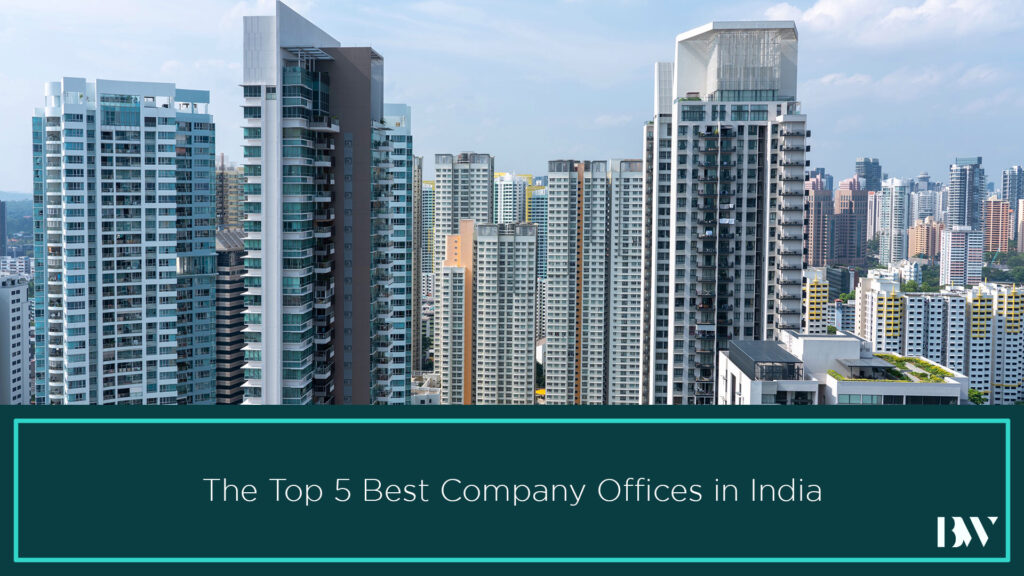 The Top 5 Best Company Offices in India
The time when office spaces were these drab buildings is long gone. Modern businesses have transformed the way that offices look because of their careful designs and unique usefulness. Some of the biggest businesses in the world, including Amazon and Google, have established operations in India. Additionally, the campuses that our own Indian businesses have designed are of the highest calibre. In terms of design sensibility and worker pleasure, it appears as though each is in competition with the other. Therefore, we select some of the greatest corporate offices available today. All of these businesses have succeeded in creating office spaces with cutting-edge features and pleasant, playful settings.
Top 5 Best Company Offices in India
Here are the 5 best company offices in India – that have world-class facilities. Read on to know more: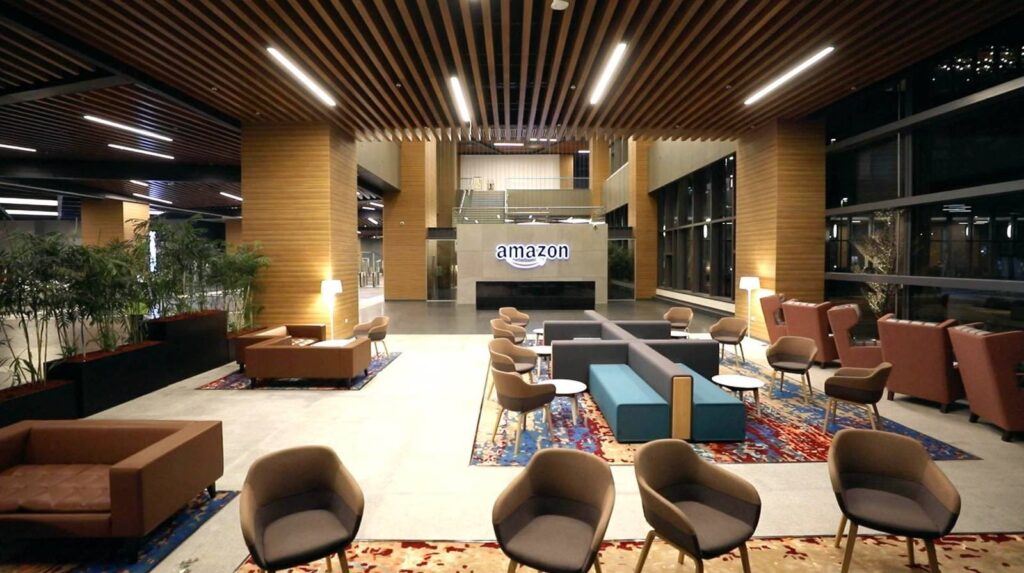 Amazon's largest office in the world, located in Hyderabad, is described as sprawling, sleek, and futuristic. This complex, which spans 9.7 acres of land, exceeds all expectations for an office setting. Every part of this campus, from the wall art to the countless workstations, focus rooms, entertainment areas, grassy fields, and even the top-notch cafeterias, is intended to foster creativity and increase productivity.
Amazon's Hyderabad office is one of the best company offices in India. It highlights the top-notch amenities provided for the wellness of their employees.
What Employees Love: There are particular areas of the best company offices in India that employees adore the most, even though the campus may have something to offer everyone who works here.
There are two cafeterias on this campus that provide Italian, Asian, North and South Indian, and comfort cuisine.
Walls with painted plates and other visually striking pieces like the 3D "Empty Chair" that suggests that customers are constantly present are impossible to miss on all 15 stories of the building.
49 elevators with white boards that ascend and descend at a speed of one second each floor.
The recreation area includes areas for activities including air hockey, table tennis, billiards, foosball, yoga, and wall climbing.
A lush setting with some trees that are more than 200 years old.

Address: Amazon Development Centre India Pvt., Q City – B Block, Nanakramguda Village Serilingampally Mandal, Ranga Reddy Dist., Gachibowli, Hyderabad, Telangana – 500 032
The Infosys campus is one of the best company offices in India. The Infosys campus in Mysore, which is also referred to as the largest corporate university in the world, serves as the organisation's training facility for new hires. This vast office complex, which spans 350 acres of land, is a world unto itself. Once you are here, you wouldn't need to go anywhere else for anything because it is fully equipped with lodging, sports facilities, dining options, a multiplex, banking services, a gym and fitness centre, a retail area, a swimming pool, and grooming and gifting areas.
A significant part of this is also played by design and architecture, and every now and then you'll come across a feature or building that will blow your mind. There is something stunning here at every turn, whether it be the Greco-Roman centrepiece, the pyramidal building in shades of grey and black, or the vast green areas.
What Employees Love: Best company offices in India are famous for their focus towards their employees. Although the massive and expansive Infosys Mysore campus has much to offer, there are particular areas that trainees simply gush about:
The numerous bicycles that are parked in specific locations throughout the school and that anyone may use to get about the campus – a well-kept, well-manicured swimming pool with fountains
A multiplex with four screens showing the newest films
With more than 75,000 books, it's one of the best corporate libraries in the nation.
The world-class sports track that is welcoming at all hours of the day is the runner's paradise.

Address: Infosys, Plot No: 350 – 354, 368 – 372, & 376, Hebbal Electronic City, Hootagalli, Mysore – 570 018
Another one from the list of best company offices in India is Google – Hyderabad. The Hyderabad campus, which houses the largest Google office in India to date, is a first-class workplace with features and luxuries that are unheard of. The Google office in Telangana is one of the best company offices in India and is fantastic, odd, and a place made to foster development and creativity.
Best company offices in India, this facility provides workers with a global atmosphere and has a capacity for approximately 6500 employees. The office offers meeting spaces and focus areas in addition to spacious open floors that promote collaboration and an open door culture. There are several lounge places for relaxation, including a gaming lounge where professionals can relax by playing Xbox, foosball, or table tennis.
What Employees Love: There is nothing about a Google office that you wouldn't like, and this is also true of the Hyderabad site. Some of the top places to work are as follows:
The bustling cafeteria with live counters serving omelettes, pasta, and other foods. Instead of using the elevator or stairs, employees can access the office through the huge slide.
A wonderful library that is both calm and pleasant.
Micro kitchens filled with a choice of teas, Nutella, and other items like Maggie quick noodles.
An amazing gym with cutting-edge features like treadmills with laptops attached in case someone wants to combine working out and doing their homework.


Address: Google, Block 1, DivyaSree Omega Survey No 13, Kothaguda, Telangana 500 084
The Adobe office in Nodia, is another one from the list of best company offices in India. It was established in 2016 and is an energy-efficient workspace for around 2000 IT executives. The campus is one of the greenest office places in the nation with the idea of ecological and energy saving.
The complex, which is spread across seven acres and encompasses 200,000 square feet, was beautifully created with innovation, creativity, and practicality in mind.
There are vibrant hues that promote a youthful atmosphere and foster creativity, breathtaking geometric patterns that leave you speechless, and structural facades that are clean and contemporary. The best company offices in India, and redesigned workspace includes less individual cabins and offices and more open area for easy collaboration than its earlier design.
What Employees Love: There are many benefits to working in the vibrant and high-vibrational Adobe workplace, but these are some of the things that staff members like most about the campus, and which makes them the best company offices in India:.
The leisure areas, which include a well-stocked gym and areas for basketball, tennis, volleyball, rock climbing, and other sports.
Sophisticated lighting, ventilation, power, and security controls in buildings.
The outdoor cafe and the amphitheatre are excellent places to engage with coworkers and form office friendships.
Soft planting and bio walls that keep the atmosphere free of excessive heat and dangerous pollutants.


Address: Adobe Systems, I – 1A, City Centre, Sector 25A, Noida, Uttar Pradesh – 201 301
One of the nicest work environments in the whole country is found at Facebook's (or Meta, as we now know it to be) Hyderabad headquarters, a posh workplace with top-notch amenities and a variety of facilities. An open-plan workplace with a local theme narrative, the office is built to resemble a tiny neighbourhood. The best company offices in India are divided into distinct areas that are spread out across 12 levels and have raw aesthetics like a beaten metal desk, exposed brick walls, and more. Some of the distinctive areas of this open-floor workspace include meeting rooms, social hubs, collaboration areas, and the green park.
What Employees Love: The Facebook headquarters in Hyderabad features several amusing areas and elements that pay homage to the spirit of India; these are the ones that staff members adore the most, and that's what makes these companies the best company offices in India:
A seat in one of the lounges made from a restored auto rickshaw.
The seven-star buffet available to all staff members.
Some of the rooms' seating was provided by charpais or khatiyas.
The gaming area where you may unwind during the day.
Sensor-controlled lighting systems that not only look cool but also use a ton less energy.


Address: Facebook Inc. C9MG+35G, Hitech City Main Rd, Diamond Hills, Lumbini Avenue, Gachibowli, Hyderabad, Telangana – 500 081
From Google to Meta, Microsoft to Adobe, and Flipkart to Amazon – some of the biggest and best companies in the world have built their best company offices in India. With their big names they also bring the best company offices in India that are stunning in design and full-proof in functionality. From the list above, which of these company offices did you think were the best?
Frequently Asked Questions (FAQ)
Ans. Facebook, Google, Infosys, and Amazon are some organisations that have the best company offices in India.
Ans. The Amazon office in Hyderabad is the single biggest office space in India.