Best Metaverse For Real Estate
Top 10 Office Remodelling Trends In 2023
Trends in office remodelling design alter every year as a result of small changes in the business world. Several of these developments in 2023 are being driven by the return to a comfortable, more welcoming workplace that is safer and friendlier.
Your workplace will become more appealing to new employees, welcoming to returning employees, and comfortable to those who have worked there for years by implementing some of these interior office remodelling design ideas.
1. Collaborative Office Remodelling Design
Modern office remodelling design places an important focus on open floor designs for the workplace. Fewer dividers between employees encourage interaction and teamwork on projects. For research and development departments and other creative teams that depend on face time with others to have spontaneous discussions on ideas, improved collaboration is essential.
2. Active Workplace with Ergonomic Interior Office Design
Ergonomic interior design reduces strain on workers and can lower the chances of work-related musculoskeletal disorders (WMSDs). The Washington State Department of Labor and Industries examined the cost to benefits of adding ergonomic elements to the office design. From 40 reports of offices using ergonomic design, the study found a decrease in injuries from WMSDs by 61% and a drop in turnover by 87%. Absenteeism and errors also fell while productivity increased.
Worker strain is minimized and ergonomic interior design while doing office remodelling may reduce the risk of musculoskeletal problems at the workplace. The cost-benefit analysis of adding ergonomic elements into office design was done by the Washington State Department of Labor and Industries. The study discovered a 61% decrease in WMSD injuries and an 87% decrease in turnover from 40 reports of offices that used ergonomic design. While production increased, absenteeism and errors also fell.
Office remodelling options includes elements that keep workers moving. These include:
Treadmill desks
Ball chairs
Bike chairs
Sit-stand chairs
Adjustable height desks for use while standing or sitting
Standing mats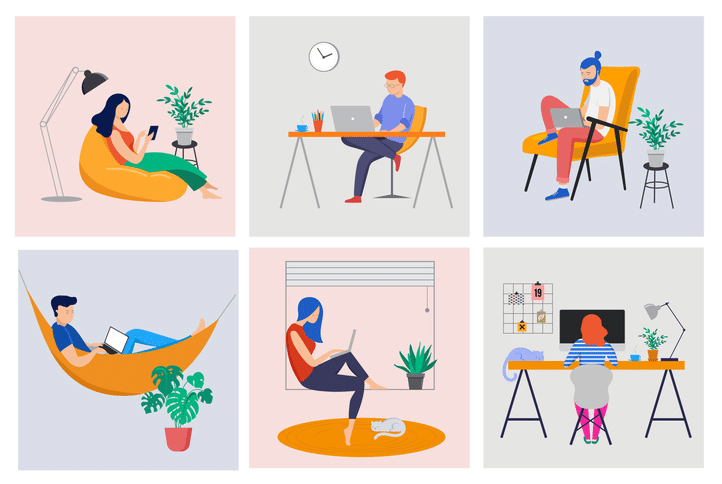 The need to allow employees to work from home is something that many organizations have learned over the past few years. Those who want to save money on childcare or commuting costs by working from home find flexible work environments appealing. Employees who work online hybrid still interact with coworkers at the office on a regular basis, which opens up potential for collaboration opportunities while benefiting from working from home.
Office remodelling structure for work from home and hybrid work situation:
Even with many offices reopening and welcoming workers back, other workplaces are only increasing their offerings for working from home, either part or full-time, with their office remodelling structure.
Office remodelling for office spaces that offer remote work still need to consider how those employees will connect with others at the office, either through online meetings, phone conferences or visiting the office in person occasionally.
Making Work Look More Homelike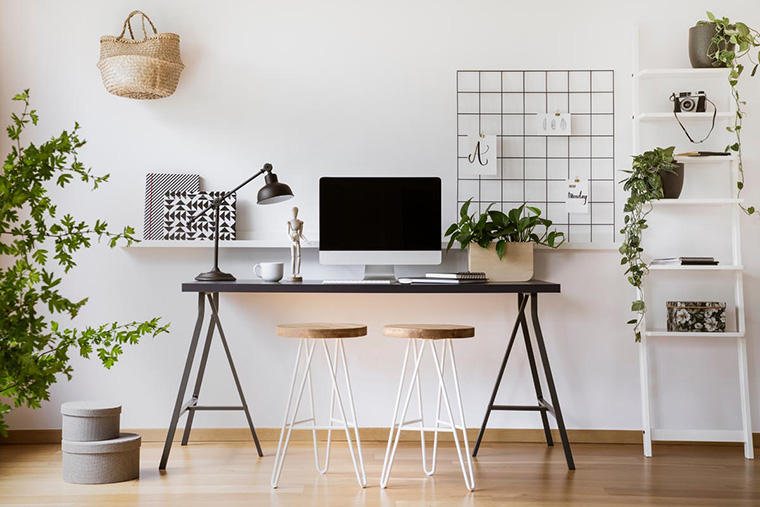 Many employees seek a more comfortable environment at work as they make the switch from remote working to working in an office again. According to this year's trends in office remodelling interior design, you can lighten the atmosphere by using elements from residential design, like:
Open shelving
Framed artwork
Mirrors
Rugs
Curtains
Floor lamps
Coffee tables
These subtle yet visible office remodelling ideas might make employees feel more at ease. Wood floors, sofas, lounge chairs, softer lighting, and other warm elements may give a workstation a homey, warm vibe. Your employees will feel happier and more at ease if your office interior-furniture architecture have these cozy homelike settings.
4. Architectural Interiors with Pods or Booths for Privacy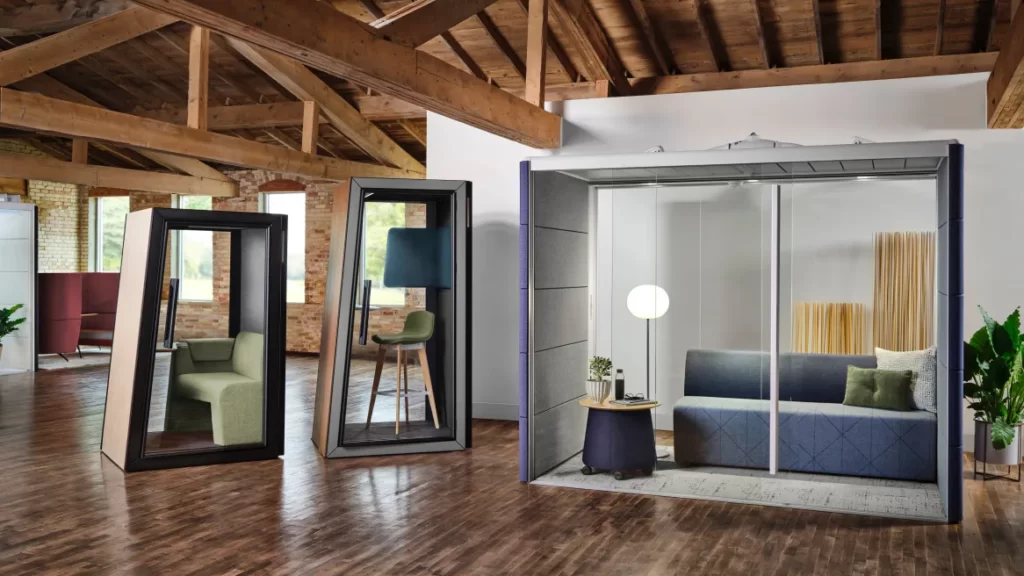 Another office remodelling idea in office remodelling is – Interior of the Hush-Hybrid Conference booth, Installing pods and booths, which are popular interior office furniture architecture ideas, is an useful technique to give privacy to open spaces and create areas for quiet work. Although they may have dividers or walls to cover the workspace, these pods are often smaller than private offices and less open than cubicles.
This office remodelling idea encourages small group collaboration; they might have comfy sofas and coffee tables, or a more cozy setting for a single employee to work privately. Pods often include:
Desk space and seating
Charging stations
Soundproofing
5. Wall Coverings and Living Walls
Modern offices no longer have plain white walls. While focusing on office remodelling, you may include colors or images that convey the qualities and values of the company. Accent walls transform a room's one white wall into a colored one, adding a splash of color without tiring the eyes. The color psychology of these accent walls can be used to motivate employees or increase concentration.
The usage of bold peel-and-stick wallpaper is an office remodelling design trend from last year that will probably continue into 2023. Simply peel and stick the wallpaper to your office walls, and it will function precisely as it says. Painting and traditional wallpaper application can be expensive and time-consuming. Peel-and-stick options enable you change up your decor as frequently as you'd like without any hassle. You could experiment with whatever looks best suit your business. Popular wall coverings for 2023 include:
Geometric patterns
Landscape scenery
Abstract shapes
Elegant prints
Floral patterns
Bold colors and prints
Faux texture
6. Sustainability and Nature in the Office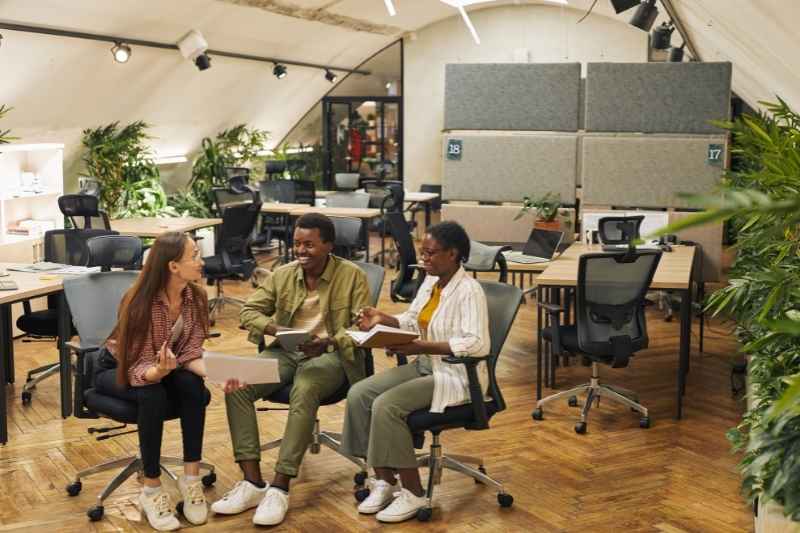 Living walls are frequently used in office remodelling that are "biophilic," or include natural elements into their design and architecture. The feeling of bringing nature indoors can be enhanced by using plant or water walls and other natural building elements.
While focusing on office remodelling also think about the nature, and how it acts as a therapy. Workplace stress can be reduced by taking care of plants, which is also good for the health and wellbeing of employees. Living plants in the workplace increase productivity, enhance air quality, and reduce noise by softening the hard walls and floors.
Green building does not just mean placing plants all over the office. Sustainable office design techniques begin with the building materials chosen for the site. By using locally sourced products for office remodelling, you can reduce the amount of emissions produced during transportation of the construction materials. Many other sustainable techniques are:
Maximizing energy efficiency
Increasing the use of natural lighting
Choosing low-emissions furnishings and construction materials.
7. Light Colors and Natural Lighting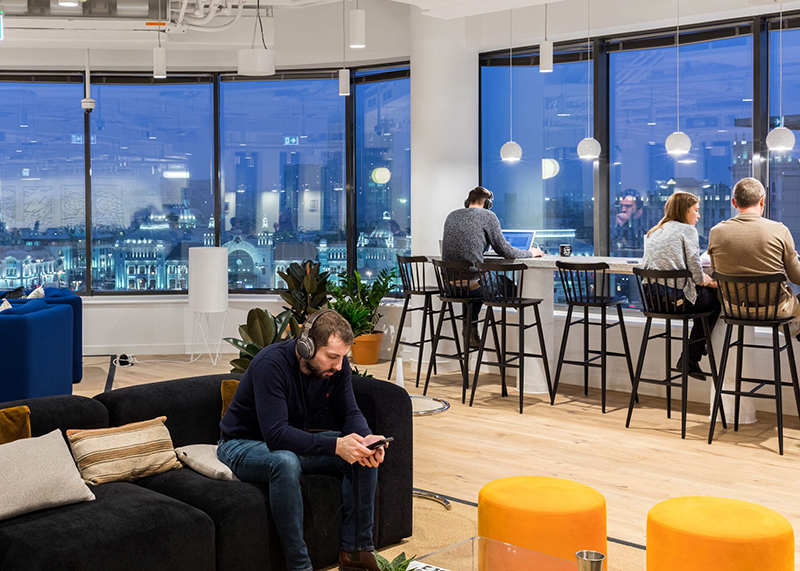 The use of natural lighting and light wall colors will continue to be popular office remodelling interior design trend in 2023. Lighter hues, such greys, neutrals, and greens, enhance an office's natural ambience. By the use of color psychology, colors used in a workplace can also affect productivity and provide various zones for numerous sorts of thinking. These are some examples of how colors may affect how we feel:
Grays connect to impressions of style, sophistication, productivity, functionality and simplicity.
Green colors bring to mind nature, peacefulness, serenity, calmness and comfort.
An orange accent wall in a collaborative working area can promote creativity.
Blue is a good color for lounge areas as it encourages relaxation and calmness.


Indoor plants can grow more because of natural lighting from skylights, windows, or other sources and works as office remodelling technique. According to studies, allowing natural light into your workplace can improve employee productivity and mood. Employees who worked in locations with lots of natural light experienced fewer headaches, eyestrain, and dizziness. Also, employees who are exposed to natural light are more alert and less drowsy.
Mixing old and new can achieve a balance between cozy traditional designs and modern trends, and it can also be a useful strategy for office remodelling. Modern workplace styles combine modern and vintage design components for a distinctive appearance. Using wood office furniture in a contemporary setting is one way to incorporate the trend of fusing old and new without fully investing in either. Additional examples include:
Mixing flooring
Adding pops of color
Mixing patterns
Combining metals
9. Technology and Data Connectivity
Technology serves as the foundation of many workplaces. Modernizing technology and internet connectivity is important for overall office design and employee productivity, whether it's by adding more outlets so employees can use their laptops in different areas or giving them more flexibility to attend online meetings from home.
10. Lounge Spaces Reflecting the Company's Values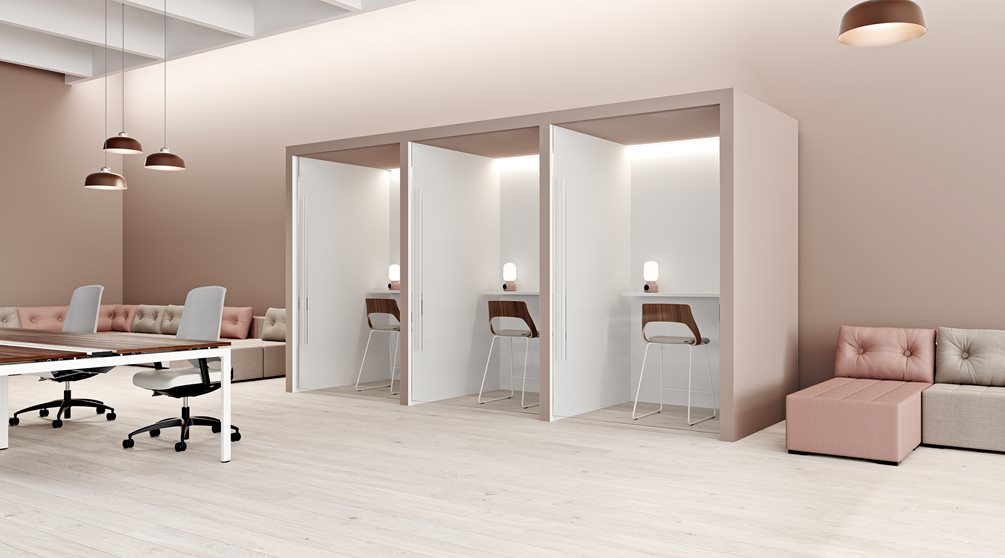 According to office remodelling or modern lounge design trends, facilities should integrate aspects of the business's operations and ideals. Today's offices include lounge areas more similar to restrooms rather than bare spaces for employees to microwave their meals.
Games in the lounge area can provide employees' eyes a break from screen time and much-needed breaks from the day's tasks. These engaging activities promote natural workplace interaction and reduce stress by letting off steam:
Foosball
Air hockey
Table tennis
Card games
Board games
Pool table
Video game consoles
A better-designed workplace makes the office a more pleasant place for full-time in-office employees, remote workers and those with flexible schedules. Office remodelling interior design with the latest trends may improve productivity and employee satisfaction. Get the latest trends incorporated into your office. If you need extra help designing your workspace, visit – www.boardwalkindia.com that can assist you with your office space design and architectural needs.
Contact us today to set up a consultation for your office interior space design services.
Frequently Asked Questions (FAQ)
Some of the most popular office remodelling, interior design trends for 2023 include the return of bold color, natural stone surfaces, closed floor plans, mixed metal finishes, luxe living, statement lighting, and 60s and 70s influences — particularly in furniture design.
Top office remodelling design trends in 2023
Collaborative Office Design.
Active Workplace With Ergonomic Interior Office Design.
Flexibility at Work.
Architectural Interiors With Pods or Booths for Privacy.
Wallcoverings and Living Walls.
Sustainability and Nature in the Office.
Light Colors and Natural Lighting.