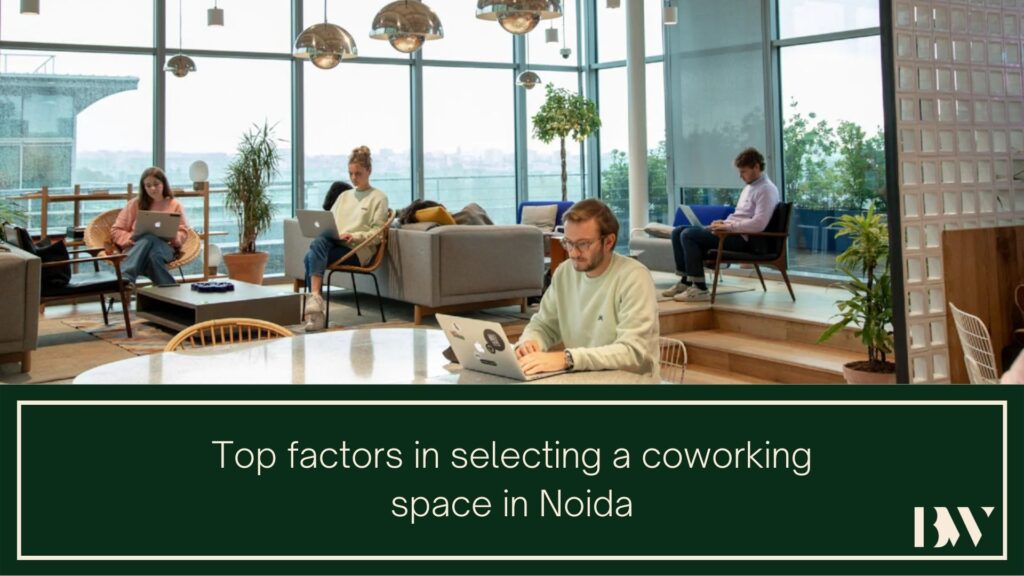 In the last few years, Noida has seen a huge increase in the demand for coworking space in Noida. This is due in part to its many advantages and features. People who enjoy working and networking at the same time often choose coworking space in Noida. Coworking spaces are becoming increasingly popular places for people to work. As a result, the need for coworking spaces is growing quickly. If you are looking for an office space in Noida, you might be dealing with challenges.
It's important but also difficult to pick the best coworking space in Noida. It takes a lot of work to find a coworking space in Noida with all the features you need. Not all coworking space in Noida are suitable for your needs and requirements. Ultimately, it becomes difficult to choose the best one for your company.
In 2022, selecting a coworking space in Noida might be tough. But today, we'll reduce the process greatly. We made an effort to cover every angle that can assist you in searching the best coworking space in Noida. We have listed the key elements you need to take into account when choosing a coworking space for your company.
Here are 11 important factors to consider while looking for a coworking space in 2022.
You must first choose the type of shared office space your business need. Hot Desks, Dedicated Desks, and Private Offices are the three different types of coworking spaces you can find. There are some obvious differences across the three spaces. Frequently, hot desks are first-come, initially. For instance, if no one is using it, you are free to sit at any desk. You must sit at any other available desk if the one you want is taken. You won't have your desk fixed. If you don't want to sit at the same workstation every day, hot desks are your best option.
A fixed or dedicated workstation, on the other hand, ensures that you sit at the same desk each time you visit. In contrast to hot desks, you have no options. In a line of ten desks, for instance, if the second desk is set aside for you. Then, you are limited to using the second desk. In the end, a private office means that you will have a specific workspace. The cabin won't be shared with anyone. Additionally, you will have plenty of storage, including a separate cabinet for your stuff.
After choosing the best coworking space in Noida, you must choose the ideal location. Because it defines how easy it will be for you or your team to get there, it is one of the most important aspects. To ensure that it is convenient for both staff and customers, we recommend finding a location in the city's centre.
When you lease a coworking space in Noida, several networking chances become available. Additionally, it will make a favorable impression on your clients. Also, make sure there are enough of dining options, ATMs, shopping centers, etc. near the Noida office space.
The amenities are one of the standout aspects of any coworking space in Noida. A coworking space's amenities enhance employee maximum comfort. These are included in your membership or day pass. The following are some of the most common features in coworking spaces:
Free Wi-Fi
Printers
Conference Rooms
Kitchen
Coffee/Tea
The budget is the next crucial factor you should think about after taking the previous factors into account. You must decide how much you can spend on a coworking space in Noida rental. Always, we'll advise giving this a budget. Once that's done, start looking for the kind of coworking space in Noida that you require at the location that you want. This will enable you to locate the best coworking space in your selected area and within your price range.
Above all, you would never want your monthly rent to become a financial burden. Therefore, it is always preferable to establish a budget when looking for office space in Noida. You must make some compromises if your budget is limited, most commonly some amenities. The coworking space model charges for each available seat. Your rent is based on how many seats you take. You may evaluate whether the rent is a good deal for you by comparing it to your budget.
One of the key factors affecting a coworking space's quality is the work environment. You must look for a coworking space in Noida with a pleasant vibe and an aesthetic interior. All you need to concentrate, be productive, and be creative at work is the pleasant environment.
The shared sense of belonging is yet another benefit of coworking. If the environment in the office is pleasant, especially with regard to the staff, you are good to go. Always look for a place where you can sit all day on the couch and still be productive. We usually advise picking a setting where you can be creative. It should have a friendly atmosphere so that, even in a difficult scenario, you don't lose your patience. The ideal working environment is one where everything is located right.
The amount of privacy you receive is another important factor to consider while choosing a coworking space in Noida. The three types of spaces are often hot desks, dedicated desks, and private offices. If you select a busy or devoted desk, you will have other people working and sometimes talking nearby. However, when you lease a private coworking space, you receive a separate cabin and enough storage. You get complete privacy there when we talk about private coworking office space in Noida. Nobody is allowed to enter your cabin without your consent. Additionally, some businesses provide a cabinet to house all of your paperwork, documents, and other items.
You work best in the dark or in the light depending on the situation. Therefore, it is usually preferable to choose a coworking space in Noida that provides for flexible working hours. Choosing a coworking space that is open 24 hours a day may boost the cost, yet won't restrict time in a way that would affect the productivity of you or your staff.
Security is essential, especially if you select a coworking space that is open 24 hours a day. If you intend to shift with your complete team, you are now liable for their security. In the coworking space in Noida, you and your colleagues will probably bring laptops, crucial papers, etc. Therefore, even if you aren't there, you shouldn't be concerned about your belongings. Therefore, picking a coworking space with good security becomes essential. You can discuss the security measures with the manager of the coworking space. For added security, make sure the workspace has CCTV installed. Locks are additionally available for your workspace. To save some cost, you shouldn't compromise security.
9. Regular Community events
One of the best ways to connect with more people and share knowledge and ideas is through community events. If all you're searching for is a coworking space in Noida where you can work and then go, you might not even think about it. It is, nonetheless, a key factor for some. One of the main objectives of coworking spaces is to help people connect and network with more people. Coworking spaces frequently host events and host important guests. Coworking spaces frequently host CEOs, motivational speakers, angel investors, etc.
You must confirm that the coworking space in Noida that you choose is flexible and scalable to your corporate goals. Yes, you would have some great plans for your business. You will eventually grow both in terms of team size and geographical reach. You must make sure that the coworking space you choose is scalable as your company expands. It is suitable to your grow or change business requirements.
11. Cafeteria and Food facility
These days, coworking spaces must have a cafeteria. You never know when you're going to need a little break or a cup of coffee to clear your head. Additionally, you never know when you'll get a craving for some delicious food to help satisfy your hunger. So it becomes essential to choose a Noida coworking space with a clean kitchen and meals. In such situation, there will always be a cafeteria. In such situation, there will always be a cafeteria.
Along with this, there are a few more major elements you should think about. For instance, the coworking space needs to offer enough accessibility to microwaves, vending machines for coffee or tea, and filtered water. Additionally, the kitchen needs to contain some crockery, such as mugs, cups, glasses, spoons, etc.
These are the most important factors to consider when choosing a coworking space in Noida. We know how difficult it is to choose the right office space in Noida for you or yourself according to your needs. We need to consider different factors, from amenities to the budget. We made the process a bit smoother by mentioning all the important factors. These are the top factors you should consider while looking for a coworking space in Noida.
Searching for a coworking space while keeping these things in mind will get you your dream coworking space catering to your needs. For more information, visit our website – www.boardwalkindia.com
Frequently Asked Questions (FAQ)
Ans. 8 characteristics of great coworking spaces
Operational Cost
Amenities
Size
Location
Team Building
Kitchenette
Work Out
Ambience
Ans. Top Amenities to Look Forward to in a Coworking Space
Parking. Self-explanatory
Coffee, beverages and snacks
Printing and Scanning
Conference Rooms
Meeting Room
Lightning-Fast Internet
Secured Network Infrastructure
Phone Booths/Call Areas