What Is A Managed Office Space and How Does It Work?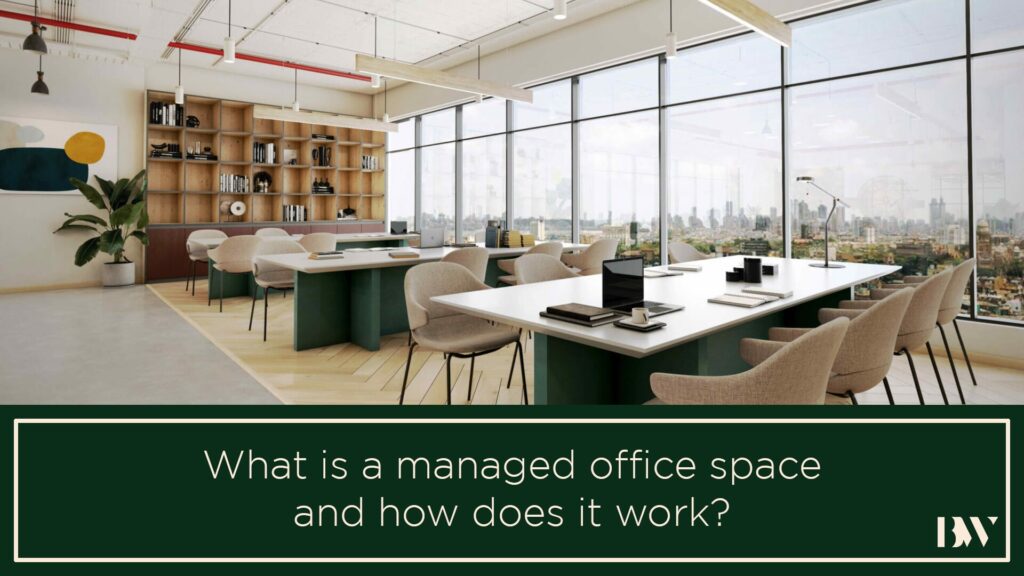 What if there was a solution that could lighten the burden of operating a new company or starting a new company with managed office space? Imagine being able to focus on kick-starting a business rather than
Researching hundreds of office spaces in Noida
Analyzing and agreeing to lengthy leases
Equipping an office with expensive supplies and amenities
Keeping your balance sheet in check


A managed office space is a tailored office space solution that is procured and managed by a third-party supplier.
A managed office space in Noida is a type of workspace-as-a-service solution that provides the agility and cost-effectiveness of a flexible office space (or serviced office) with the added benefit of control and security of a traditional lease.
The period of leasing liabilities is over. Companies only need to worry about making payments to the facilitator of managed office space when using managed office space.

Managed office space facilitators are a one-stop shop that handles all of the work on your behalf, from finding and setting up space to maintaining and operating it according to your standards.
So how do you decide if this kind of space is suitable for your business?
Think about the following:
Do you want to be economical?
Would you rather spend your time networking and growing?
Do you wish to secure the future of your company?
Managed Office Space– Definition
Managed office space, as opposed to flexible workspaces, is not shared with other businesses and is branded like an owner's office.
The flexibility and cost-effectiveness of a flexible workspace are provided by a tailored workspace solution, which is purchased and managed by a third-party supplier. However, it also allows for branding, more control, and more security.
Traditional Office Space vs. Managed Office Space
Lease Liability
Global Sourcing of Space
Fast move-in and delivery
Can be easily reconfigured.
Flexibility
Low initial investment
Fixed costs that include space, maintenance, utilities, and amenities.
Branded space
Custom design and layout
Control over how the space is used
Control over access and security.
Exclusive to your employees.


Long-term lease commitments
Significant initial investment
Complete control over furniture.
Variable office costs.
Delayed move-in
The contractor is responsible for set up, maintenance, and utilities.
Locally sourced


As you can see, managed office space has all the benefits of traditional office space with the additional advantage of being less expensive, far more flexible, and ready to move into in under eight weeks.
The fact that managed office space is handled by a third party is one of the main benefits for companies.
For instance, The Instant Group, one of the more well-known curators of managed office space, customises its services to ease the burden that comes with making sure your office is equipped with the proper facilities, is operational, and is designed properly.
Everything will be handled by a managed office space provider, including market research, selecting the ideal building, designing and furnishing the space to meet your demands, and acquiring furniture, fixtures, utilities, and other items.
By doing this, businesses may spend less on capital projects for routine office upkeep and more on improving their own ideas, revenues, and productivity.
Your managed office space provider will also take care of all of your regular office space requirements and any potential maintenance problems. 
Using your company's CAPEX to increase productivity could result in a rise in revenue from higher sales, which would raise the value of your company.
As simple words, a managed office space (in contrast to a typical office space) enables your employees, managers, and executives to focus on the company's essential business demands and goals without the hassles and difficulties that come with running and maintaining an office.
Here, you may assist your company in finding the perfect managed office space to ease the burden.
Managed Office Space vs. Other Flexible Workspace Solutions
It mostly boils down to three core differences:
Privacy and security
Branding
Control
How Managed Offices Keep Your Business Secure
Managed office space, in compared to the majority of flexible workspace options like co-working spaces or serviced offices, allows for more privacy and protection.
Co-working spaces and serviced offices are completely furnished, pre-designed spaces that appeal to workers from various businesses and professions.

Additionally, your business will have little to no influence over who enters the space, uses the facilities, and how because the membership base of these spaces is so wide.
Additionally, depending on the sort of membership they have, your staff may have a private office or a shared space. This means that other people might unintentionally access private and sensitive information.
A co-working facility or serviced office's IT infrastructure is mostly out of your company's control. As a result, it is possible that your staff will share a network with other users, which could enhance their risk to cyber-security risks and information leaks.
One of the primary reasons why companies keep rejecting workspace-as-a-service options is the IT component of co-working spaces and service offices.
On the other hand, if you have a managed office space, you have complete control over privacy and security issues, including who has access to the building and how your network and IT equipment are set.
Branding
Branding is another important factor keeping companies away from co-working spaces and serviced offices.
These Noida office spaces do not permit companies to brand the space as their own. Even though some providers of flexible workspaces may make an exception in this case, particularly if a member has a private office, the amount of branding that a business is permitted to set up is usually quite low.
In fact, managed office space is built entirely and furnished to meet your unique company requirements and is only available to your organization. This means that you are free to mark the area whichever you choose.
In reality, managed office space providers usually collaborate with an internal team from your company.

By doing this, you can make sure that the furnishings, style, and colors suit your brand's voice and image.
Control
You have more control over the office environment because managed office space providers work with a staff that is inside to your company.
It follows that your company will have control over things like:
When and to whom is access permitted?
There are conference and meeting rooms available.
Both personal and public spaces (including kitchens, lounge areas, and open workstations).
The installed IT infrastructure
The aesthetics of the surroundings (design, furniture, signage, branding).


The perfect balance between the management and security of traditional office space and the flexibility and agility of co-working spaces is achieved by managed office space.
You may enjoy the advantages of plug-and-play workspace options like co-working without the cons of privacy, security, branding, and control when using managed office space.

Meanwhile, managed office space enables businesses to take use of the advantages of traditional office space without the major drawbacks including hidden expenses, long-term commitments, and delayed move-in.
Which Option Is Best for Your Company?
Each of the three options—traditional office space, flexible space, and managed office space—has advantages and disadvantages of its own. Each alternative is best suited for a different set of requirements, and various businesses may discover that one solution works better for them than the other.
Managed Office Space
Businesses frequently choose managed office space when:
They intend to establish a satellite office.
They need to move quickly since they are entering a new market or area.
It's advised to avoid making long-term commitments when the future is uncertain.
Cost certainty is a critical part of future planning when beginning or expanding a firm.
A company's growth.


Traditional Office Space
When you can negotiate lease terms and prices after residing in a building for a significant period of time.
For companies requiring large headquarters.
When a business already has a specialized real estate team that is entirely responsible for the management and strategy of real estate
In general, companies all across the world are moving toward solutions that offer more flexibility in the workplace.
According to Instant Offices, 35% of office space will be flexible by 2023. According to JLL, flexible space will make up 30% of corporate real estate portfolios by 2030.

Co-working spaces have been a popular choice for entrepreneurs and startups, but they have had difficulty attracting big businesses that value company culture, IT security, and branding.
Large organizations can be supported with managed office space while maintaining flexibility, affordability, and control.
For more information, visit our website – www.boardwalkindia.com