Your Ultimate Checklist For Moving Office Space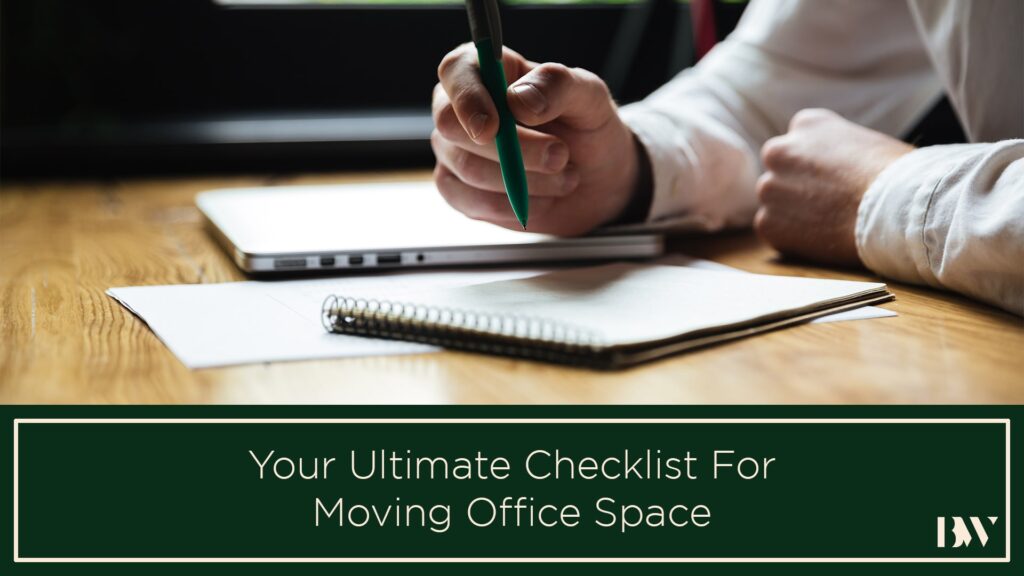 Businesses can outgrow their office space just like a family can outgrow a house. Moving your office space can have a significant influence on your employees since, according to studies, businesses shift on average every seven years, whether it's for corporate relocation, business expansion, or just a change of environment.
Regardless of your organisational structure, there will ultimately come a moment when your existing office space is insufficient to accommodate all the staff and technology you require.
To assist you in moving office space successfully, reduce the negative consequences of change, and present your relocation as a positive, exciting development for your company and your workers, we've put together our detailed moving office space checklist.
Step-By-Step Office Move Checklist
Your large office move will be easier to plan and prepare for with the help of our practical step-by-step checklist, which looks at how to:
STEP 1: Think about the needs you have for moving office space.
STEP 2: Organize a shift at your office space.
STEP 3: Calculating expenses and creating a budget.
STEP 4: Making a project task checklist.
STEP 5: Prepare your office equipment before moving office space.
STEP 6: Take care of your communications networks.
STEP 7: Manage your security when changing office space.
STEP 1: Consider your office move needs
It's important to assess your company's requirements before deciding to move office space. There are a variety of reasons to relocate an office space, but knowing them early on in the process will help you create a more effective, carefully realised moving office space procedure.
Relocating your office space can increase employee morale, raise output, and attract new talent to your company.

There are various reasons to relocate an office, however many companies do it for the following reasons:
Business growth
Attracting clients
Improving productivity
Attracting talent
STEP 2: Plan your office move
Whether you're converting to a new smart device or an entirely new office space, a well-organized move plan is essential to any transformation strategy.
Be careful to follow to these guidelines while drafting a plan to relocate your office:
Make a timeline for moving your office space, including due dates for installing new systems and technologies.
Examine your new office space location and make sure you are familiar with its IT resources, amenities, and utilities.
Plan out your office space and consider any changes that may be required to the workstations, IT system, and fixtures.
Think about how moving your office space will affect any ongoing tasks you have.
STEP 3: Identifying costs and planning your budget
Moving offices can be expensive and a huge disruption in terms of your costs incurred during any downtime. Before you create a budget for your office space relocation, it's critical to include all potential expenses.
We've compiled a list of common moving office space expenses for your consideration in order to help you get started investigating costs and hidden charges you might encounter.
Rent (including rent reviews and VAT)
Deposits and security fees
Contract break fees
Administrative/agency fees
Security charges
Removal company/relocation suppliers
Storage fees
Insurance
Service charges
Refurbishment/interior design fees
Utilities
Connectivity and communications provider fees
Post redirection
STEP 4: Creating a project task checklist
When you decide to move your office, you'll need to have a strategy in place to ensure that you don't forget any important things.
Moving offices can result in a lot of problems and affect your bottom line if not managed properly. Stepping back early to strategize and properly organise your significant business shift can prevent staff discomforts, missed invoices, and poor customer relations with a focus on maintaining the highest productivity and avoiding disturbance for your customers and employees.
When organizing your impending office space move, keep in mind that it's important to make sure you can get everything ready in advance and relocate the office space on the designated day with as little downtime and as little interruption to your employees as possible.
Do's and don'ts to include in your checklist:
Do:
Appoint a relocation manager for your office
Give yourself plenty of time for planning.
Decide on your priorities (but not just within the senior leadership team)
Describe your spending criterion.
Make a reasonable schedule and follow it.
Don't:
Avoid doing the office space move oneself
Underestimating your finances
Waiting until the last minute
Don't disregard your employees or clients
Don't overlook the smaller nuances
We've created an entire moving office space checklist to help you in moving office space smoothly, reduce the ill effects of change, and promote your relocation as a successful and exciting shift for your business and your employees while keeping these stages in mind:
Stage one: Lay the foundation
Appoint your moving office space project manager and project team
Review your current lease and establish any early-break costs
Set out your criteria and conduct necessary staff surveys
Research costs and set your budget
Establish your office space move deadline
Research office removal companies and office moving insurance costs
Start searching online for office space that suit your business needs
Document your plan and timeline
Shortlist, discuss and choose your new office space and complete necessary paperwork
Ensure your current client lists are up to date
Run a detailed audit of all online and offline and list content requiring and update to the address
Notify the post office of your new address
Collaborate with your legal teams to update necessary contracts with the new office space address.
Update your social media and online accounts (including Google Business etc.) with the new office space address
Review lists of partners and stakeholders to inform of change of office space address (update lists where necessary)
Run an audit on stationery and branding material to update addresses where necessary
Review and update all delivery subscriptions
Communicate your plans to your staff (let them know how/if they can get involved)
Give notice to current landlord/building manager
Set a date in the diary for staff to update the address in email signatures
Book your chosen office removals company
Start coordinating your office move logistics with your IT team to discuss IT systems and equipment needs
Send change of address notices to clients, customers, partners, industry bodies, and media publications of which you are a member or subscriber
Inform your internet service providers of your office space move and discuss internet connection needs
Inform your telecoms provider of your office space move and arrange for any necessary updates to your phone number, phone systems or cabling needs
Stage three: Prepare your logistics
Conduct an audit of your current office space furniture and identify any new furniture you may need
Map out your new office design with a detailed floor plan and dimensions
Plan out your new office space according to office space and desk blocks
Identify meeting room office space and communal office space in the new office layout
Arrange for any external temporary storage where required
Plan for any stationery and equipment for the new office space
Establish any security needs for the new office space
Arrange/appoint cleaning services (both for checking out of the old office and regular cleaning for the new space)
Check out and book loading bays or dedicated parking for moving day
Finalise all new contract paperwork
Discuss and make arrangements for any new IT equipment for the new office space and meeting rooms
Check-in with internet/telecoms and other necessary providers to ensure the big day runs smoothly and without excessive downtime
STEP 5: Prepare Your office equipment when moving offices
When you relocate to a new office space, how will you handle your physical equipment? You only need to move your desk phones and other endpoints to your new office space if you intend to switch to cloud communications or if you currently have a hosted system.
When getting ready your office space equipment before shifting offices, keep the following points in mind:
Make a list of every piece of IT and telecom equipment you intend to bring to your new office space location.
Check to see if all of your equipment is compatible with the IT setup at your new office space.
Make a decision regarding whether it is time to improve certain aspects of your communication strategy by moving to the cloud.
Examine any upcoming IT/Telecom improvements or purchases to see whether they may be completed at the time of office relocation.
STEP 6: Address Your Telecommunications System
As was already said, one aspect of moving office space is taking care of the hardware in your telecom system. Other aspects of your business communications plan will also need to be considered.
STEP 7: Manage Your Security When Moving Office Space
Finally, when moving office space, keep in mind not to forget the administrative issues. The time is now to think about your network security and make sure that everything is secure.
Before moving offices, keep the following in mind when maintaining your network security:
Develop a plan for protecting your information in transit after making an inventory of all your resources and assets.
List each employee together with the appropriate network access privileges.
Before the workplace move, specify and revise your security procedures as appropriate.
Examine security vendor contracts and research the security options provided by your telecommunications provider.


Moving offices can be a complicated experience at the best of times. Fortunately, with Boardwalk India's insightful blogs, you can minimise the stress of your move, and reduce the disruptions to your business. For more information visit our website – www.boardwalkindia.com