Top 10 Co-Working Spaces in Delhi/ NCR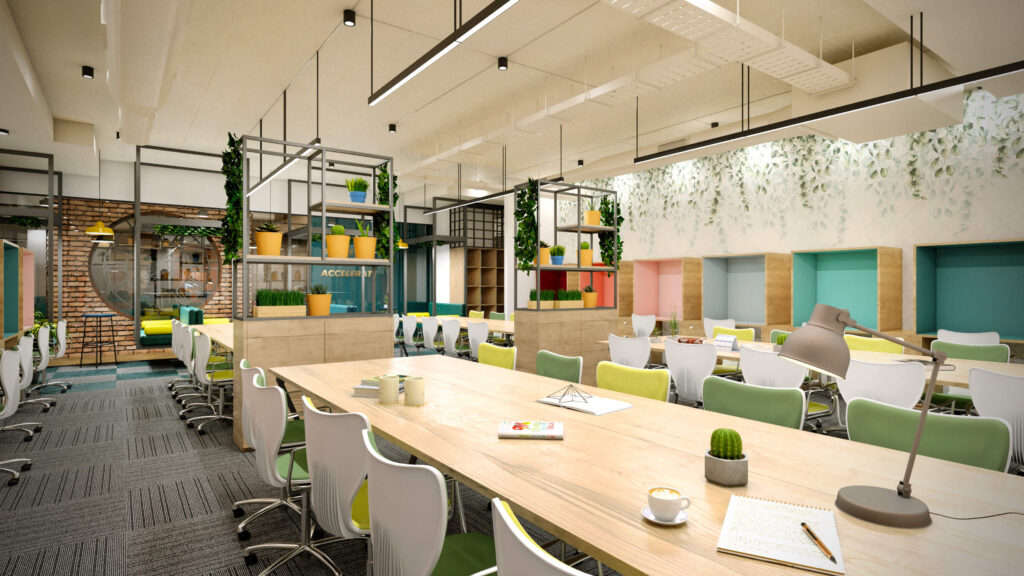 It doesn't matter if you're a freelancer, working from home, or an entrepreneur looking for an "office" space or co-working space in Delhi/NCR. If budget is a problem, or you simply want to get out of the house and work in a more stimulating environment, then we have sorted this out for you in this article.
The concept of start-ups, the cue for which came from Silicon Valley, immediately captured the minds of young Indians, and we now have a large number of young Indians pursuing their dreams and attempting to establish a successful company in India.
In this article today, we shall be listing out the 10 best co-working spaces in Delhi/NCR that you can try out, as a remote worker, start-up entrepreneur, working professional, consultant, content creator, artist, etc. Read on to know more.
Apart from being a popular hangout spot in Delhi, the social workspace is a renowned co-working space in Delhi/NCR as well. A full suite of business services including HR, IT, admin, marketing, and finance solutions under one roof. Access work provides you with state-of-the-art amenities required for freelancers and small businesses to function to the best of their abilities. It includes all basic amenities like air conditioning, cafeteria, security, reception, and high-speed WIFI. Along with networking opportunities, being located in DLF cybercity, the heart of Corporate Gurgaon, your business enterprise is sure to benefit from this prime real estate.
Skootr, one of the premier coworking spaces in Delhi/NCR offers uncomplicated, custom-designed run offices for small and large businesses that will meet all of your requirements. It has private conference space, as well as office equipment such as printers, scanners, and projectors, as well as 24/7 power backup, unlimited tea and coffee, and high-speed internet.
It is considered to be one of the best co working spaces in Noida. Individual seats, private cabins, and conference rooms are available for monthly rental. There are no lease requirements and the office is ready to use. It is well connected through Sector 15 Noida Metro Station, which is only 2 kilometres away. High-Speed Internet, Unlimited Tea/Coffee, Quality Printing, Professional Security, a Chill Out Zone, Adequate Parking Space, and Snooze Room are just a few of the modern amenities available in this space.
Cube8 is one of the prominent coworking spaces available in Gurgaon. The place is designed in such a way that it optimises innovation, productivity, and collaboration. At Cube8, they have carefully planned the minutest details from choosing the color of the paint on the walls, optimizing the use of natural lights to selecting comfy furniture and inspiring décor
InstaOffice Coworking Space
If you're searching for a co working space in Noida, look no further than Insta Office Co working. They are a go-to option for workplace needs because of their versatile layout, which includes open workstations, private and managerial cabins, and access to meeting rooms. They have high-speed internet connectivity, which is now a necessary requirement. They also have an open lobby and pantry, as well as a runner facility, in addition to various other aspects that are extremely beneficial to a good start-up.
Located in Good Earth City Center Mall and MG road, ABL workspace is another leading coworking space in Gurgaon. They promise to offer luxury interiors and lucrative locations at affordable pricing. This workspace is dominated by the IT sector, with members praising the workspace for an amazing work environment and culture. From Hot desks, dedicated office spaces, and suites to dedicated desks, they believe that if you're a medium-sized team, your interests are best served in co working spaces like ABL.
Smartworks Coworking Space
Smartworks Nehru Place is one of the most vibrant coworking spaces. This well-designed and flexible workspace has got hot desks and dedicated desks suitably designed for all team sizes. You will be provided with all the top-notch facilities such as high-level security, scanner, parking space, medical facilities, fast-speed internet connectivity, 100% power backup, superb housekeeping service, unlimited tea/coffee, air conditioner, printer, and much more. The ambiance is very lively, comfortable, and highly professional.
CorporatEdge Coworking Space
CorporatEdge is perfect for those looking for a premium coworking space in Delhi/NCR. They have catered to big corporations like Gameloft, Adobe, HP, Uber, and Expedia, you can be guaranteed a premium working experience. Working in CorporatEdge will bring a truly corporate experience, along with the comforts and luxuries of seemingly 5-star and 7-star hotels according to users. High-Speed Internet, Unlimited Tea/Coffee, Quality Printing, Professional Security, a Chill Out Zone, Adequate Parking Space, and Snooze Room are just a few of the modern amenities available in this space.
Regus, Delhi is a subsidiary of the Regus Corporation, which offers small and large businesses scalable workplace solutions. Virtual Offices, Conference Rooms, Corporate lounges, and other amenities are a few of the services that they provide. It's a great shared office space in Delhi for freelancers, aspiring entrepreneurs, and small teams to work because it offers so many opportunities for professional collaboration.
The Garage Society Coworking Space
This International Coworking space in Gurgaon operates in multiple countries including Singapore and Hongkong and offers Recruitment and Networking solutions along with a coworking space. The Garage society provides you with international networking opportunities, along with state-of-the-art recruitment and onboarding process. They offer dedicated offices for teams with up to 500 members, and as such will be suitable for medium and larger teams looking to take advantage of the economies of scale. Located in Udyog Vihar, this coworking space is located in the heart of Gurgaon, making it an alluring option.
From luxurious workspaces to more casual and laid-back experiences, we've covered all your coworking spaces in Delhi/NCR in the list mentioned above. These coworking spaces in Delhi/NCR provide a world-class platform for hosting webinars, events, and workshops, which only work towards accentuating your entrepreneurial skills.