Top Global Businesses That Started in a Coworking Space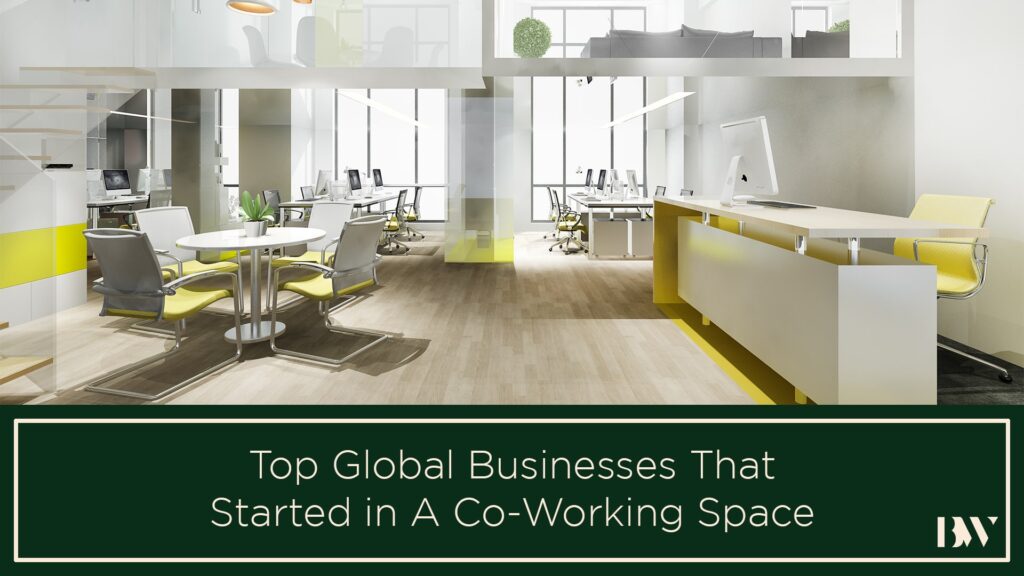 For young businesses and entrepreneurs, a co working space is the ideal place to work because it offers access to office supplies at a reasonable lease price. Businesses are now relocating to coworking spaces in Noida and Gurugram due to the countless advantages of joining one. Diverse businesses of all levels can scale up rapidly and be successful thanks to a number of factors, including the ability to save on lease expenses and the creation of fantastic networks seen in coworking spaces. Let's look at a few of these prosperous coworking businesses and learn about their journeys.
Global Businesses That Started From Coworking Spaces-
Everyone is familiar with this forerunner in the sharing economy that has developed into a global provider of transportation services. The fact that it began in a coworking space in New York and moved to San Francisco later on is not well known, though. In 2011, an 8-person team, including the co-founders Travis Kalanick and Garrett Camp, worked out of the San Francisco innovation hub RocketSpace. The organisation now has operations in approximately 800 metropolitan areas and has representation in 80 different countries. Uber Eats, Uber Freight, and Uber Help are now part of the Uber family and offer a variety of transportation-related services.
One such incredible digital startup that began its journey in a coworking environment is Spotify. 159 million active users already subscribe to this streaming service, which generates close to $5 billion in revenue annually and is currently valued at $8 billion.
Another product of one of San Francisco's co working spaces is this crowdfunding website for budding entrepreneurs who have great ideas but lack the resources to make them a reality. It was a wise decision to establish this business in a co working space because co working members value financing and support. The business is currently renowned for being the world's largest crowdfunding platform, with which more than $1.5 billion has been raised.
Another great firm that got its start in a co working space is Instagram. The social media platforms were transformed by this corporation, which was formerly situated in San Francisco. The idea originated in Dogpatch Labs, a co working space where Kevin Systrom and Mike Krieger developed a novel social media concept that became well-known all over the world and was bought by Facebook for $1 billion.
This recent startup promotes sustainability and green thinking. Based in a co working facility in London, the Chinese bike-sharing firm has expanded its service to 21 other nations since its founding in 2014. Without stressing about where to lock it or how to leave it, you may rent a bike in any of the 250 cities on the planet. As the largest "station-free" bike-sharing firm at the moment, Ofo promotes a green lifestyle, the sharing economy, and sustainable living. Who knows, perhaps the business will establish itself as an Uber for bicycles.
Both job searchers and employees might find employment there in the United States. In 2010, Ian Siegel, Joe Edmonds, Ward Poulos, and Will Redd launched this startup. Ziprecruiter's beginnings took place in a Los Angeles-based coworking facility. By hiring the best staff, the profitable company is assisting many other businesses in making money. According to the corporation, its platform was utilised by 430 million job searchers and over 1.5 million enterprises in 2018.
A young company, Ziprecruiter is today regarded as one of the top names in the employment sector. Ziprecruiter has made it much easier for qualified job candidates to locate jobs.
The purpose of Wanderfly's founding was to close the significant travel market gap. In the beginning, Wanderfly operated out of Projective Space, a co working facility in New York. They opted for a co working facility for networking purposes. They desired to work together and close the significant gap in the tourism industry. Wanderfly quickly gained enormous popularity. Wanderfly was owned by the well-known website TripAdvisor after a year in business.
A new company called Nuracode solves all issues involving codes. Additionally, Nuracode offers digital strategy solutions. Nuracode began as a tiny firm with a co working space, but it has grown into a significant software giant.Nuracode now serves Fortune 500 nations that require software development.
Hootsuite was able to flourish because of the atmosphere of co working, which allowed them make beneficial connections. Nowadays, hardly any businesses choose to ignore the realm of social media. It is a crucial component of every company's marketing plan and online presence. However, it can be challenging to keep up a social media presence across all of the channels that are currently available.
Ryan Holmes came up with a solution to this problem in the year 2008. Almost all social media platforms including Facebook, Instagram, LinkedIn, YouTube, and Twitter, may be integrated by the software he developed. He referred to it as Hootsuite.
What factors contributed to the growth of successful businesses in coworking settings?
The startup pays substantially less for an office space because the rent is shared by other businesses and independent contractors in co working facilities.
In comparison to typical premises, co working spaces demand a relatively low lease fee. Thus, startups are able to expand their businesses without having to take on a significant financial burden.
Ryan Holmes came up with a solution to this problem in the year 2008. Almost all social media platforms including Facebook, Instagram, LinkedIn, YouTube, and Twitter, may be integrated by the software he developed. He referred to it as Hootsuite.
Another primary reason why businesses begin in co working spaces is networking. Companies encounter freelancers in co working spaces who end up being potential clients or project partners. At these co working locations, they can also locate future employees.
Startups have a wide range of opportunities in co working spaces. When compared to large enterprises, the culture of startups is significantly different. They require a wide range of possibilities. There are startups with fewer than ten employees. There are some startups with more than ten employees.
People seek to work in prominent city sites that are easily reachable by numerous modes of transportation. For new businesses and entrepreneurs, a co working space may be the ideal place to work because it offers standard office resources at a reasonable leasing price.
These ten incredibly successful businesses got their start in coworking areas. They gained a lot from their time spent working at coworking places. By lowering expenses and simplifying administrative tasks, coworking spaces support the growth of a business.
Co working spaces might be a source of inspiration for you or the springboard you need to advance. And fantastic coffee is nearly always available in co working places.
Also, if you're looking for a co working space for you or your company, please visit our website (www.boardwalkindia.com)